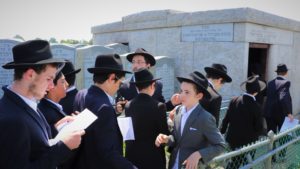 As a preparation for Shabbos, 20 Menachem Av, the Yahrtzeit of the Rebbe's father, the Kabbalist Rabbi Levi Yitzchak Scheneerson, YSP spent the day (Thursday) out of Morrsitown.
Our first stop was at the Ohel, where the Talmidim were given a few moments to spend reading their Panim that they had written after Shacharis. Breakfast was served, and then the busses rolled on to 770, where the Talmidim davened Mincha.
Following Mincha, the Rebbe's house on President Street was visited, and the Talmdim had the opportunity to say their's and the Rebbe's Kapitel of Tehillim.
Refreshments were served, and then 'return to home' was hit on the GPS, and the Talmidim returned to YSP after a well-utilized Hachana for Chof Menachem Av.
Photos: Avi Eskinazi for yspmorristown.com