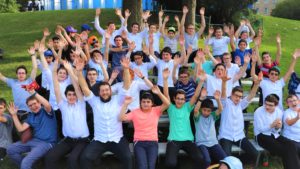 The YSPorts League came to a climax yesterday as the two finalists of the season faced off against one another in the Championship Game.
The teams of Atoh Vechartanu and Vi'hi Sheomdoh, the official champions of the Lebedik and Pamelach Conferences respectively, had a very serious baseball game. Tensions were running high as the match went to the bottom of the 13th inning!
Team Atoh Vechartanu, YSP 5777 Champions!
One thing that cannot go unmentioned about this season games is the amount of sportsmanship displayed by the captains as well as the players. All teams members played their hardest, while maintaining proper conduct.
Photos: Avi Eskinazi for yspmorristown.com
To view sports teams, captains, and stats – click here.